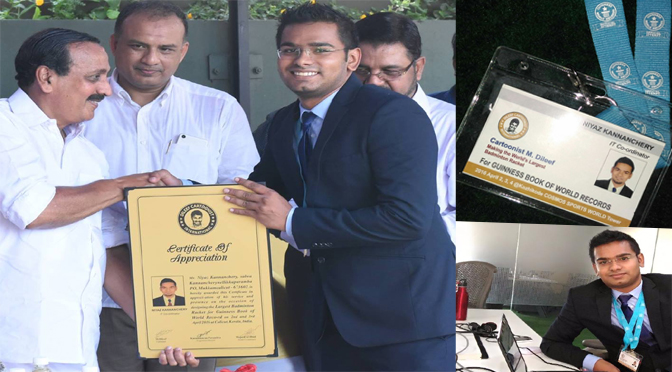 Update (21-July-2016) : Guinness World Record is Approved for World's Largest Badminton .
I am Sorry to delay this blog topic.When I posted above Picture one month ago on Social Media, few of my friends asked me on private chats for what I was receiving this certificate OR my name will come on Guinness World Record Book. So I thought it's better to write about the experience in this Guinness Official Attempt of Largest Badminton creation. But I really got busy with documentation work of this around 15 Days and uploading took another 1 Week. Then concentrated on my Post Graduation exam and finished it day before yesterday only (23rd May 2016).
So let's come to the matter, On making of World's Largest Badminton, All credit goes to Mr.Dileef. He is the master brain of this project from A to Z and also 85% of Badminton work did by himself.
I actually came to know about this event from a Street Flex poster, that he is making Largest Badminton for Guinness Record, I was confused whether Mr.Dileef is drawing big picture of Badminton because he is an Artist & Cartoonist. he owns Caricature branches across Kerala and also he already drawn 3333 Sq Meters Mahatma Ghandi caricature on 2011. so Cartoonist & the word 'making badminton' didn't digest me.
I am getting call from Mr.Dileef, 1 week before this event, to work as IT Coordinator. We met face to face sometime but he didn't know me much. On the last meeting on March (before this event) he asked my name again but now he will not forget me as I spent great time with him :D. I believe Mr.Salim advised me for this as they are close friends.
The construction of this Badminton Racket was on 02,03-April 2016 but I was with Mr.Dileef starting on 30th March 2016 related with Preproduction Work.
for the Official Guinness Attempt there are many things to follow. the main thing was we must get approve from GWR* (Guinness Word Record) before the attempt,otherwise they will reject it. and there are many rules to be carefully followed. In event its compulsory have 2 Program observers, Surveyor, Time Keeper, all time Videographer,Photographers etc. As an IT Coordinator my duties were to prepare documents evidence based on GWR rules. I have also to collect full video footage & photographs of entire event and the notes given by the observers, time keepers and surveyor. The total Size of Video and photo is 214 GB.
To be honest, On the event I met many versatility persons there. Artists, Sports Related people, Social workers, Wildlife photographers etc. I noticed, these all were very polite in behaviour. No Positional attitude on head. What I got from there was different experience & good connections. I am a person who look for experience and connection than monetary service. This was also a free service.
When anyone see any big object, it looks easy for construction. But making is always challenging. We faced unexpected Challenges on event days too. Bended Metallic Pipe for Badminton Racket head we did previous days of event. but  2 nos bended pipe out of 8 nos, proportion were wrong due to sketching different. So me and Mr.Binu went to that Industrial work shop to correct this bend based on sketch. That time was Saturday 04:45 PM. We were afraid whether the shop close as tomorrow is Off for them and no one had shop number. when we reached there its 05:35 PM (18 KM). the Owner said if the workers willing to do then only he accept. These workers are Bengalis. The guy who did this work before refused to do, he said closing time is 05:00 PM. luckily another worker said he can fix it. It's all God grace.
Cover of Badminton Neck , Industry workers said they don't have machine to do on 01st April 2016. So on event day Mr.Dileef made like cover from a plain straight metal by hitting with a hammer. Mr.Dileef is really creative and have solution for all. What always comes from his mouth was everything can do when we are willing to do and it is absolutely possible.
Largest Badminton was made on terrace of 5th floor Cosmos Sports. Badminton is 16.89 meters height and 244 KG 800 gram weight. We need to bring it down on ground without damaging the glass building. We call some people for this, to do this work, amount which they said was too expensive (25,000 INR). They might be thinking that when they bring down largest object from heights, amount also must high :D. but we managed to find someone for 15,000 INR.
It was remarkable that Mr.Dileef always showed his confidence & Courage in every level .he have solution when one thing don't work out. When we put it from 5th floor to down scratches happened on badminton. Some people in that event told him let it be, no one see when it go up but he is the man with perfection and painted all again all. this can only see the people who become success. Never Give Up.
After this, From Ground When picked up the Badminton with crane head broke up. We lifted down and weld and painted. My heart was beating very high at this moment. Imaging if it broke down all the hard work washed out. With the help of God Almight we stood it on ground for display.

The Documentation work we planned to started on next day but another problem also happened, the video shooted sound is not playing in Window media player but well working on VLC players and also sound cannot loading in my Video Editor. the format was MTS. So I was in search of why it was not playing. When i asked some video grapher they showed their MTS file which working both of our Window Media player. I tried to convert my MTS file to MP4 in different convertor but result was still same (No Sound). Video without Audio seems as dead file. Finally one Videographer showed me a convertor but he was not having installation file. Later I found same name Convertor over internet.
Documentation work I did from my Uncle Mr.Nazar Kannanchery's office with his permission. Its is 5 KM far from home. its Travels Office but not yet currently start operating. I started work on 08th April 2016. First started on video, it take more days as I need to split the main points. I did segments of different development stages of work and made in 30 – 40 min duration file each. I wrote all split times on white paper then cut and converted. Mr.Dileef and Mr.Majeed (program coordinator) was with me to show the main portion to split. Splitting and covert took days.
Doing Video Editing for Guinness Evidence with Mr.Dileef, yesterday 07:45 PM till 01:45 AM & tday started 02:30 PM. pic.twitter.com/VuSpTY7AGG

— Niyaz Kannanchery (@niyazsky) April 9, 2016
I saved this all in separated folder (Purchase Material, Industrial Work, Outline Drawing on Floor, Making Head, Neck, Handle, Spray Painting, Waving Net, Object Measurement, Rexine Cover, Final Object). Then started joining all as 1 file of each with titles. Its finished on 16th April 2016. later we classified folder and sort out photos also preparing statement such as cover letter, 5 Program observation, Surveyor statements etc. The Final of all done on 30th April 2016 and ready to Upload.
Time : 11: 34 PM | half of this month spent for Guinness Evidence Preparation, Will come to end today. #UPLOADING pic.twitter.com/WW6GD3INZT

— Niyaz Kannanchery (@niyazsky) April 30, 2016
All these days we worked from 03:00 PM – 11:00 PM and 1 whole night spend inside office till morning 07:00 AM. Because finishing this at earliest become our priority as we all want back to our regular task. Everything we did it very carefully and double checked many times before sending to Guinness Office. That's all about the Guinness Event Experience.
Now we registered for another biggest object creation for next year and for this looking for sponsor. but I am not sure whether i can assist him as I'm going through some critical time of my Life coming 2 Years. and also we are ready to make any object for any companies. Its Mr.Dileef passion to make challenging task and his strength gives us confidence.
NB : I believe in one concept that Different Experience can make our Life success. When we experience in different fields, one time we realise that this is our path to success.