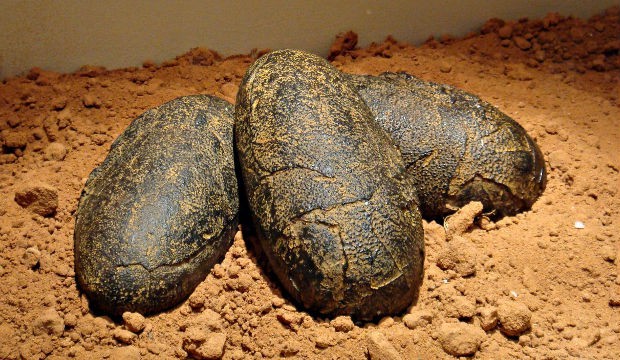 Three big dinosaur eggs of great scientific value have been stolen from National Dinosaur Fossil Park in Bagh area of Dhar district.
The matter, which came to light on Saturday morning, was reported to Dhar police on Sunday afternoon after which a case of theft and trespass was lodged at Mandav police station under sections 380 and 457 of the IPC, CSP Pithampur Vikram Singh Raghuvanshi told TOI.
The matter came to light when Dhar district panchayat-run park watchman spotted 3 of the 27 rarest of rare dinosaur eggs missing from egg-shaped museum at the sprawling national park on Friday morning.
This led to setting up of an internal probe, but when there was no headway and eggs remained untraceable, assistant accounts officer at Nalcha Janpad Panchayat and other officials reported the matter to Mandav police station on Sunday.
"A police team was immediately pressed into action, which went to the museum and found eggs missing. The eggs are 6.5 to 10 billion years old and hence of great and unmatchable scientific value," CSP Pithampur added.
National Dinosaur Fossils Park is located in Suli Bardi-Kakarkhoh under Bagh tehsil area of Dhar and three watchmen take turn to keep vigil in the park spread over sprawling 89.740 hectare forest area. The egg-shaped museum, home to dinosaur eggs, is spread on around 6 acres of area.
In the absence of CCTV in the museum, it has become a blind case for the police. The cops have questioned museum watchmen, but have failed to get any clue so far.
The place was declared as a National Dinosaur Fossil Park by the MP government on the recommendation of MP Wildlife Board in July 2013. The museum houses fossils of more than 100 dinosaur eggs, teeth, bones and other dinosaur remains, which were found in that area in 2006. Scientists have estimated these fossils to be around 6.5 billion to 10 billion years old.
Fossils of dinosaur nests have also been found in the area. In 2003, a US scientist had identified fossils of a massive dinosaur, which was named "Rajasaurus Narmdensis".