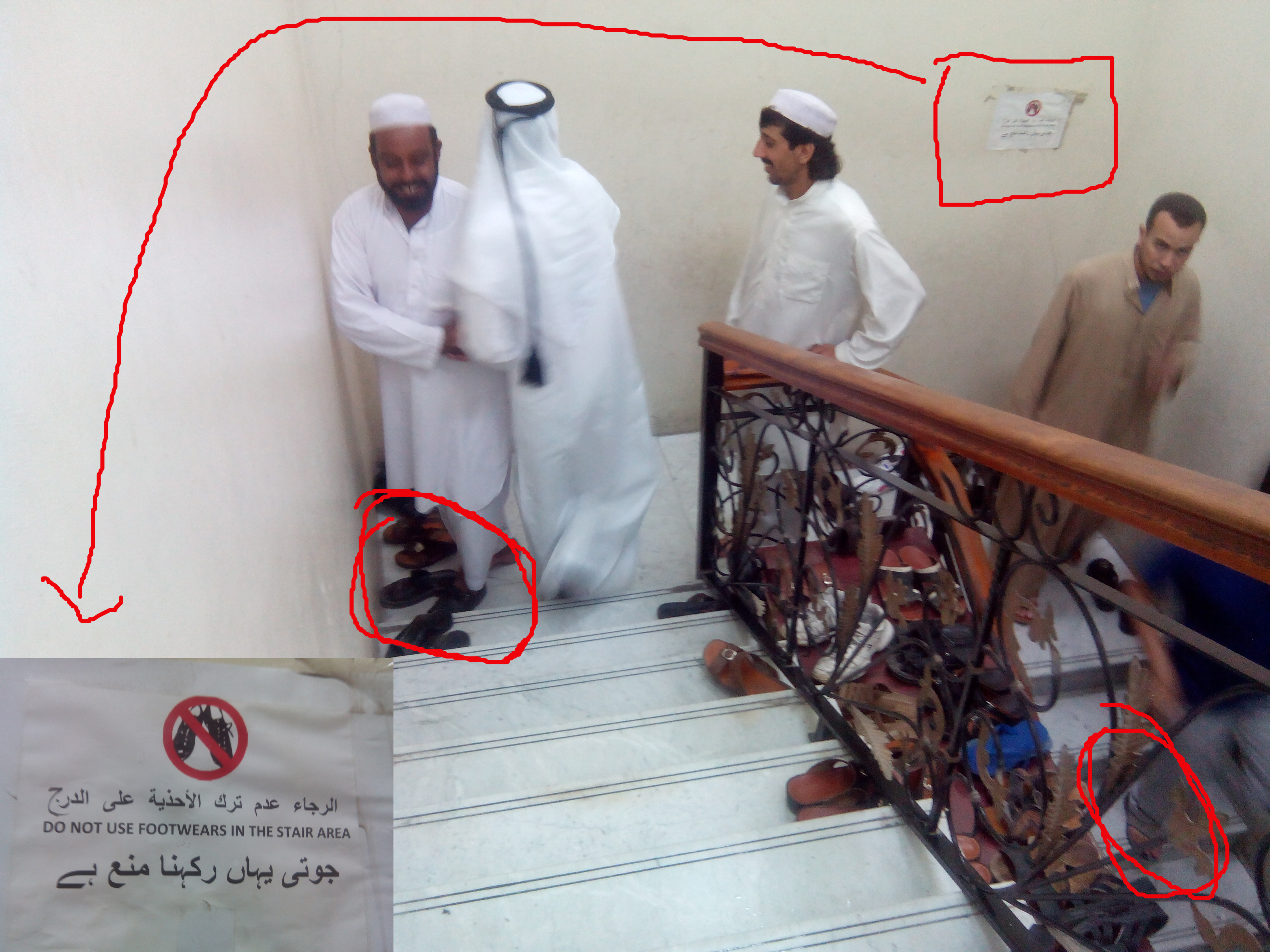 I am at Qatar last 1 Year. I will tell two stories happened today.
First Story
today morning I was going to Bank with my Colleague. He entered in Car & threw Tea Cup outside on road. I requested him to take & put in waste bin while going. he didn't listen. I took it back. On the way threw in a dust bin (many bins here on road side). then he was saying our other colleague also doing same.
Second Story
as shown in pic : Its Written in almost all Qatar Mosques that 'DO NOT USE FOOT WEARS IN STAIR AREA'. but in
every mosque here many people leave their footwear on stair. after ablution when we walk first floor, get dust on others
legs who follows rule. people forgetting Mosques are 'House of God'. today few hours before (07:20 PM) when I saw one guy walking on stairs and left the shoe there. I just showed him that poster (didn't say anything). He was saying others also doing same !!!!
Whats Wrong with us?
this is our problem. When others say something good that doesn't makes any efforts, their reply would rely on others
activity.
REALISE GUYS, Each Individual is a Society. First you stop doing, automatically it make change in Society. Just understand and follow it. I'm not trying to increase my image through this post. I dont like to advise anyone but its so sad by seeing all this activities. Please it's a request from heart
Updates
When I raised this issue in a Qatar Forum one user commented another two issues, this also I noticed here. One is religions issue that I am not mentioning here but you can read in blog comment.
the Other one is eating or drinking food in public buses at Qatar. Its Ok in this busy Life. but Please don't leave food cover or bottle in bus. When you get down take that & put it road side in waste bin. For Small Act ,reward from God might be bigger.
Updates (04-March-15)
the Day I posted this blog , until now my colleague (case 1), talks about this. He want to remove this topic. I told him that I didn't mention his name on post. the he said he will continue throw the cup on road. So I informed him that I will mention his name & photo here (Photo purposefully I took today)  😀