Two days Back I noticed this Post from Facebook. I checked whether this Story is true and Confirmed with Wikipedia information.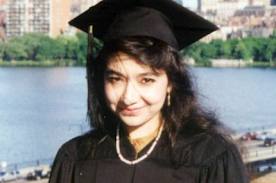 Dr Aafia Siddiqui, A Pakistani PhD. Having 144 Honorary Degrees & Certificates, In Neurology, From Different Institutes Of The World, The Only Neurologist In The World Have The Honorary Ph.d From Harvard University, Hafiz-e Quraan, Aalima, Not Even A Single American Matches her Qualifications,
She Was Kidnapped along with her 3 children, By the FBI from Karachi, With Help of Government Alleging Connection with Al-Qaeeda, Now She is in USA prison, Having Lost Memory, Due to physical, Psychological & Sexual Torture, She is Imprisoned with Men.
If you cannot do anything, Just forward it and just Pray for Her.