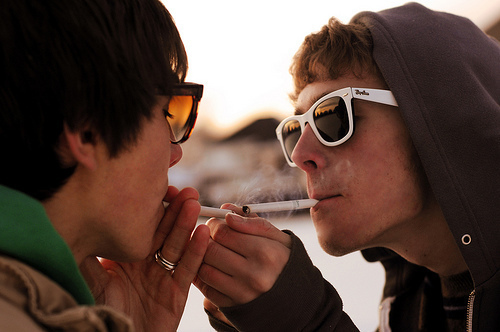 October 2013, when I was sitting at Office Manas Group (Malappuram BATA Dealers). the other side of road – two boys surely aged below 18 Smoking Cigarettes near to their bike. I called my Colleague Mr.Unni & Showed this. he tried to discourage them with his sharp look. When aged people look at boys usually boys feel shame and throw, but these boys noticed us but keep continue smoking.
after few minutes a man came on a scooter and talked to them; looked back to us. Suddenly scooter turned on & left. This Guy was a Ganja supplier got arrested before another colleague M/s Sumathi recognized him. he was staying near to her area.. I got Shocked how these kids are trapped in it.
the Students or Youngsters using these kind of drugs Please understand you are destroying your Life. Believe me you couldn't complete your studies If you using these things. I Studied at Bangalore the Place available these things plenty. I have seen with my eyes how my friends ended up without completing studies after using this. they thought that Smoking, Liquor, Ganja, Whitner need all to become freak. I don't know whether they regretting for their Life now. but the money their parents spent for their education totally flushed out.
Study time is most beautiful stage of our Life. this time We don't have any responsibilities. have enough pocket money which you dont know how your parents earned & food daily without any risk. but after age of 22 – 25. You will face another Life. If you completely enjoy this Life, You are gonna struggle remaining Life. Education is most important to lead the life this Era,
A Kerala guy name Sonu lived Bangalore (hebbal), was addicted in drugs like Ganja, Whitener, some tablets crazy people having, he used all these stuff. Due to usage of this he is Coma Stage at Calicut Medical College.he consumed years yet his Life turned to disaster. I heard that using whitner stuck in brain & it never dissolve.
Did you ever think how much your Parents Dream your Future and working hard for a better life. What you are returning back to them? do you think they will support you always in rest of Life. Why you destroying your Life & Health. I don't wanna be an adviser. It your choice & you can live your Life as you want but never regret on your Life later. You cannot blame your friends or someone for this that they gave you for the first time. It your mistake
Watch below video. this is not a imaginary video. they are tested with real human heart & shows the comparison of a real smoker & non smoker.
NB : In Kerala its time of New Generation Film. Most of it covering usage of drugs & modern Life style. they might be inspire from this. request to Malayalam New Generation Directors DONT SPOIL THE YOUTH & GOVERNMENT CONTROL THIS TYPE OF FILMS.